One of the fun things about getting together with our children is seeing the little things they say and do that remind us that they are our children, indeed! Joellen posted on her blog this morning and from the title on I was hooked -
New Year Love
is definitely from me. I think if I had to pick a favorite holiday, New Year Day would absolutely be in the running! I love the idea of starting with a clean slate, and empty calendar and 365 new days to fill with all kinds of fun things and projects.
If you go on to read her post, however, she talks about perfectionism, which she gets from both me and her father. I know it affects how I do things differently, I tend more towards avoiding tasks that I doubt I can complete perfectly which leads to my battle with procrastination. I definitely have discovered that this is where I tend to accumulate UFO's (UnFinished Objects). Most of my projects that I haven't finished tend to have some sort of a problem, which is why they get set aside in the unfinished state! During my 2014 UFO challenge, I had a really great time taking a dozen of those projects and facing their imperfections so they can at long last be quilts. I think that really helped me to see that even though the project I am working on might not be exactly what I envisioned in the beginning, it is still worthwhile to take it through to completion.
Going back to planning, I am having fun with my present to myself this year - an awesome Quilter's Planner!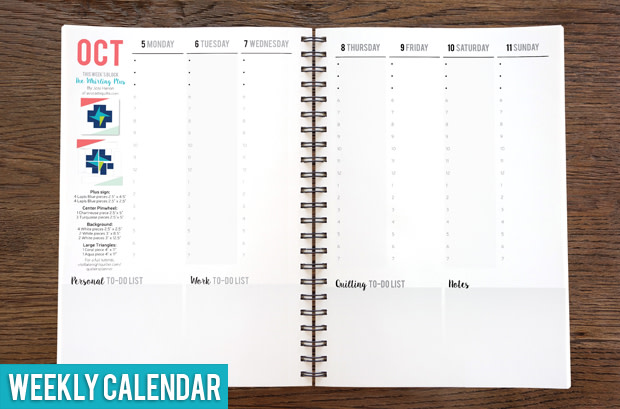 It has a lot of great features designed especially for quilters, so I think this will be a great tool to keep me on track this year! If you would be interested in ordering one, they are available at the
Fat Quarter shop
. I just downloaded a pattern to make a sweet cover for it, so hope to get started on that tomorrow. Tonight I am thinking about what fabrics I want to use...such fun.
Luckily, whatever bug I had seems to have been fairly short lived. I am getting a little bored of taking it easy and am looking forward to finishing up the rest of the week with some sewing, house cleaning and putting away the Christmas decorations. Sad, but also fun to get started with the New Year! What are your New Year plans? We'll be staying in, probably will watch a good movie and eat some chips and dip - yum!