****The Giveaway has ended and the winner is Piroska Blanchette! Congratulations, Piroska, I have e-mailed the patterns to you!****
Well, I have been as busy as usual, I'm working on a quilt that is taking me quite a bit longer than I had planned on, so I have been working petal to the metal all week long. It's coming along and I see light at the end of the tunnel, so hopefully I'll have something interesting to blog about soon!
I didn't want to miss Giveaway day - I've had so much fun participating in the past! It's always hard to decide what to use for a Giveaway, but this year I thought I would send the winner a set of all 5 Charm Square table runner patterns that I have designed! Since I will e-mail these as a set of PDF files anyone in the world is eligible to win, all you need is an e-mail address (so make sure you are not a no-reply blogger so I can get the prize to you easily!)
I will choose a random number from the comments on this post - just let me know which one of my Charm Square patterns is your favorite by December 13, and I'll announce the winner by the 15th!
My favorite one is Windmills, I just love this version that I made using a Fandango charm pack. I have a charm pack of Bobbins and Bits that I plan to use to make a table runner with this pattern, I really think it will be pretty as well! All of my charm square table runners are fun projects that go together quickly, so even if you are a beginner sewer I am confident that you can create a beautiful project with any of them - plus, if you want to make table runners for sale with my patterns, I have no problem with that (though I love when you give me credit for the design!)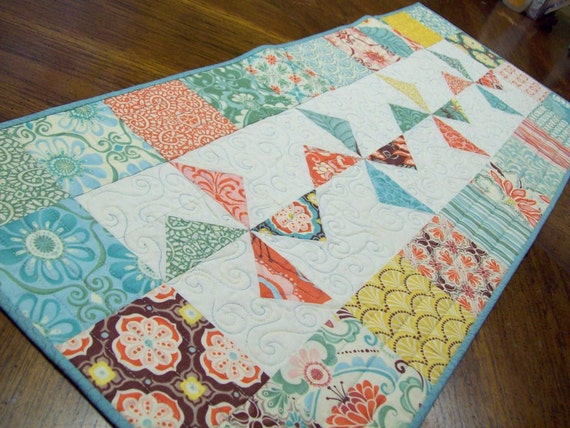 I have some more ideas for projects using charm packs, but as you are likely to hear me say - "Too many projects, not enough time"! Oh, well, I do make notes, so eventually I think I will have time, at least for some of them.
a Rafflecopter giveaway
Thanks again for joining me on my giveaway - go check out the SewMamaSew blog for lots more opportunities to win! For supplies go
here
, and for handmade items check
here
.