I read an interesting article the other day that said one of the root causes of procrastination can be perfectionism. I've heard this before, but in the light of my UFO collection I can really see that to be true! Most of the projects that I have not seen through to a finish have some kind of an issue that I am hesitant to resolve because I don't know if it will be "good enough".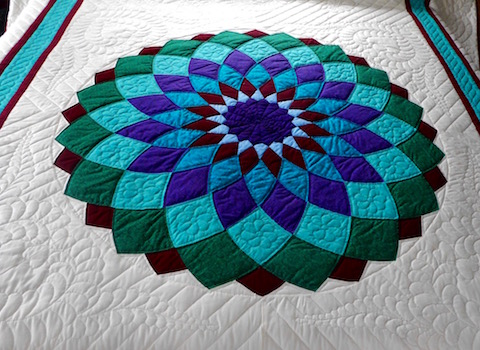 The Giant Dahlia that was supposed to be my UFO project last month has been untouched (this is not mine - my top is still just a big flower that needs a center and to be appliqued to the background!) What am I procrastinating about? Here is how my thought process runs when I look at this project: "It needs a center, and I want it to be perfect. I don't think I want a solid center, but don't know what I want exactly. I've seen lots with Dresden centers, and that would probably look nice, but I don't know what colors to use. Then I have to figure out a border, get a backing, and do the quilting." It just all seems overwhelming, so I have done nothing at all till this weekend.
This is the center used for the quilt along that started me on this project. So, it's fun and scrappy like the rest of the quilt, I should be able to do that. Maybe I just need to get started, and move the project along! Stop worrying about it being perfect, because nothing is truly perfect, and just enjoy the journey of creating this quilt. I can at least make a center, then if I don't like it I can try something else, after all this quilt is just for my own pleasure in making it so there is no sense putting pressure on myself to make it "perfect".
And so I pulled out my top to work on it this weekend! I did manage to settle on a background before I set it aside. I do like the soft green. It's really pretty, and looking at it helps me want to work on it more. I make a goal for myself to see if I can get the center done and applique the whole thing to the background fabric this week. I won't focus on the big picture with this project, which means getting it totally finished, but I am going to work toward enjoying each step. I can get the center done - then worry about the next thing when it is time.
I chose a dresden in EQ8, printed out templates, then picked out a rainbow of scraps for the blades. I love the method of stitching across the top to make the points - the angle is slightly different from the template, but that's fine. I cut a template out of cardstock, then cut six blades to make 1/4 of my dresden. I was nervous to see if it would all fit together because those are skinny pieces - but it looks great so far!
That success gives me the drive to make the remaining three sections!
So pretty! Now to add the quarter sections together and decide what to use in the center. After thinking about it for a bit, I decided that the background fabric would look good in the center, so I found a jar with the right diameter for a template and cut a freezer paper template.
I carefully placed it so it was centered in the plate, and a few minutes of hand stitching rewarded me with a finished dresden plate!
By then it was time to fix dinner - so today my goal is to applique the plate to my background. Lots of applique this week, but by the end of July, I will have at least made progress on this project and hopefully be ready to think about the next step!
Even though perfectionism can hold you back with overthinking a project, it can be helpful in achieving good results in your piecing. Or maybe the better word would be precision. After all, you can be precise without expecting perfection! Precise cutting and piecing make your blocks fit together without issues, which makes quilting a pleasure instead of frustrating.
The Farmer's Wife blocks are really making me work on precision! Especially the ones that are based on a grid of 5 - I have to use templates to make those, which definitely require a lot of precision.
This block would be a breeze in a 5 or 10 inch size! But in a six inch size the squares are 1 and 2/10 of an inch. A little hard to find that measurement on a quilting ruler - so I print out templates and use those to cut all my pieces. Tedious, but my blocks are coming out nicely!
Speaking of precision - I'm excited to use these lovely fabrics for my August Island Batik Ambassador challenge. I don't have to worry about perfection (or precision) because I'll be using the Tucker Trimmer to make the units for my quilt - and they will definitely be gloriously precise!
Sometimes you have to embrace the random and imperfect. I pieced this little top from bits and pieces left from a project and it was so fun! I think I'll quilt this and make it into a soft cushion to remind me that perfection isn't the end goal. I hope you get to take some time and make something fun this week, I know I will!