I decided that today would be the perfect day to post my December Island Batik Ambassador challenge because it is the Winter Solstice. I'm excited that even though it's the start of winter, that the days will be getting longer from here on out. This year has been a trying one, and I was thinking that a little Mini Madness might be the solution - so I created this Winter Mini Medallion quilt using the fat quarter bundle of Glacier View that I received in my Ambassador box this summer. I love these beautiful blues and thought they would be perfect for a winter quilt!
The theme for this challenge was to create a quilt 36 x 36 or larger:
A medallion quilt is all about a center block and borders. Use what you learned from your research in the Creative Borders and Bindings Challenge to help you create your masterpiece! Your center medallion block can be anything, appliqué, paper pieced, traditionally pieced, improv or any other idea you come up with.
I started out playing with design ideas earlier this summer, using EQ8 to come up with various ideas. After a lot of playing around I came up with the start of a plan:
So fun! But so many blocks! And that cute shoo fly border is made up of 2 inch blocks, which is not going to happen. But it's a beginning, and I really like the dresden plate center, so it was a good start!
I love the fabric with the trees! It made a nice center for my dresden plate block - perfect for fussy cutting. Back to the drawing board. My next draft seemed a little more do-able.
Until I got to the third border, that is. That's the point where I realized that the fabric I wanted to use as the dark part of the stars was not going to stretch near far enough! Back to EQ8 to decide what to do next.
Maybe just use the blocks in the corners? At this point I was a bit tired of making those ribbon star blocks and put them up on the design wall to decide if there was another way.
I kind of liked the idea of alternating the blocks with white space, so decided on that for my final design!
From here it was just a matter of making a few more ribbon stars, then sewing them together, and getting the final border going.
Yes, this looks good to me! I love it! I actually made another design switch here to better show off those penquins in the outer blocks. I originally had a more complicated version of the Economy Block, but changed so that the center square was larger to give them more space.
I decided to use the
Fusible Cotton batting
from Hobbs again - I just love not needing to baste my quilt! This batting is definitely up there on my favorites list now!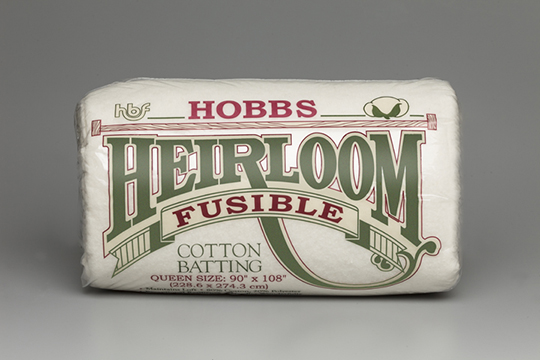 I had a perfectly sized piece left from my November project, so was quickly on my way to getting the quilting started. With a
Schmetz needle
and
Aurifil thread
loaded, I was ready to tackle getting this project finished. My cone of white Aurifil thread is sure getting a workout this month, this is the third blue and white quilt I've made this month!
I kept my quiting simple, lots of curvy designs to soften all the straight piecing. It sure is a pretty little quilt! I quilted the last border in diamonds using a ruler foot and straight ruler. I'm getting better at using these tools, and am finding myself much more comfortable with practice.
After Christmas it will be lovely on this table! This quilt will end up being washed, so I'm interested in seeing how the batting looks after that, I'll be sure to remember to updat you when that happens.
I think Scamper approves! He takes advantage of this spot to look out the front window and supervise who comes in and out of the front door, so is the reason I'll be washing it!
Would you like to join me in my Winter Mini Madness? I've written up the instructions for making this quilt and am happy to make it available as a pattern. I had hopes of doing this as a Quilt Along this month, but things were just too crazy for that so this is the next best thing. If you loved doing the June Mini Madness quilt, I think you will love this one, too. If it helps with your winter madness I am happy - it helped with mine!
Thanks to Island Batik for a wonderful year as an Island Batik Ambassador! Thank you for all the wonderful fabric and the great group of Ambassadors that have inspired and encouraged me! I'll post a review of all my 2020 projects next week - it's been quite a year.